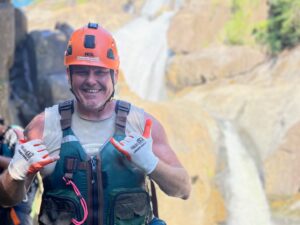 Michael was born in Dalton, GA on April 7th, 1977.  Raised by his grandma, aunt, and uncle, his first years of life were challenged by difficulty and hardship.  Through his early twenties, he acquired his GED and went to school for Graphic Design at Chattanooga State.  He joined the Army in October of 2006 at the age of twenty-nine until April 2014, eight years of active service.  In 2008 he was deployed to Iraq for a period of one year and in April 2011 he deployed to Afghanistan and was wounded and medically evacuated in October 2011 after seven months of service.
While in active duty he studied criminal justice in Texas Central. In 2013, he went to Tennessee temple university to study theology, coinciding with world history, and in 2014, attended Virginia College for Cosmetology. 
After his years of service, he returned on December 26, 2015, to Northern Iraq as a humanitarian in the middle of the ISIS conflict, helping the women and children in distress.  In 2016 he traveled the US in a Jeep Wrangler from east to west coast learning to heal with the outdoors.  Soon after, he flew the country of Armenia and worked his way across the whole of Europe advocating and bringing awareness to the Yazidi Genocide. He returns to the USA in 2017 for a section hike for 40 days on the Appalachian Trail. 
The year 2018, he flew to Monrovia, Liberia, West Africa to fund a non-government organization called Better Tomorrow, building orphanages and supplying clean water to the communities.
During these times, on Valentine's Day 2014, he attempted suicide.   He survives and comes to the realization of his purpose.  So begins the mission of a purpose-driven life, with the inclusion of God in his convictions to help mend broken souls and heal their wounds by teaching a new way of life.
In January 2020 he moves to Puerto Rico and in October 2021, he legally registered Roll Out PTSD, a non-profit organization dedicated to improving the lives of fellow veterans and their families to cope with trauma and reemerged in everyday life.  Roll Out PTSD incorporates fellowship and comradery through experiences with outdoor adventures in the beautiful sceneries and landscapes of the island of Puerto Rico.  Kayaking, hiking, horseback riding, and surfing are some of the fun adventures veterans and their families can enjoy and learn from as they find new determination and an embracing community to assist in their pursuit of a healthy and prosperous life.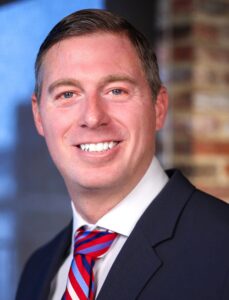 Brett Thompson is the Vice President of Roll Out PTSD. As Vice President, he leads the veteran outreach and marketing efforts for Roll Out PTSD. He is also the Director of Nursing for Emmanuel Home Health Services.
Brett grew up in a military (Air Force) family. He spent his childhood in Arizona and Germany until his parents settled down in Las Vegas. Brett always had a desire to work in medicine; he graduated from Rancho Medical Academy High School in 2002.  He later studied Biology at the University of Nevada, Reno, graduating with a Bachelor of Science in Biology in 2006. After college, Brett wanted to serve his country and joined the United States Army.  He went to Basic Training and Officer Candidate School at Fort Benning, Georgia. Moving to Fort Sill, Oklahoma, Brett studied to become a Field Artillery Officer and later was stationed at Fort Riley, Kansas with the 1st Infantry Division. Brett started off as a Field Direction Officer and then later was a Platoon Leader. He was deployed to Baghdad, Iraq in 2008. In Baghdad he was attached to the 5-4 Cavalry 1st Infantry and preformed mounted and dismounted patrols. During this time he earned the Bronze Star and an Army Commination Medal. Brett was later sent to 1-63 Armor as a Fire Direction Officer/Intel Officer, serving in Muhammadiyah and West Baghdad.
After the Army, Brett went back to school and graduated from the University of Las Vegas, Nevada with another Bachelor of Science, this time in Nursing. He moved to New York City in 2012 and became a Geriatric Nurse at New York Presbyterian and later became a float nurse ranging from the Emergency Room to Progressive Care Units. In 2017, he and his wife moved to Baltimore, Maryland. Brett practiced Real Estate in Maryland for three years then found a position as Director of Nursing at Emmanuel Health Services where he assesses patients and works to obtain in-home care for new patients.  
Brett met Mike in 2021 after answering a post requesting people to help veterans with PTSD. After responding and connecting with Mike, Brett knew this was meant for him. If you are a Veteran or a First Responder suffering from PTSD or are feeling stressors from the job, we are here to help and please reach out.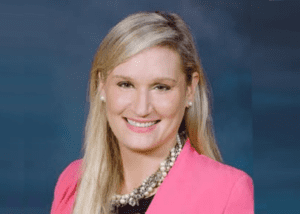 Amanda Verner Thompson is the Chief Executive Officer of Roll Out PTSD. As Chief Executive Officer, she leads the organization, focusing on developing programs that are effective and aligned with the mission as well as steering the sponsorship and partnership efforts.

Amanda was born and raised in Danbury, CT. Amanda graduated from Duke University with a major in Biology and a minor in French. Upon graduation, she began her career in healthcare investment banking. Most recently, Amanda was a Co-Head of Healthcare Investment Banking at Matrix Capital Markets Group. Prior to that she also worked in healthcare investment banking for Raymond James, Morgan Keegan, and Shattuck Hammond Partners. In her healthcare investment banking career, she advised not-for-profit and for-profit healthcare clients on strategic advisory, mergers and acquisitions, valuations, and capital markets, including strategic capital planning. She has specific expertise with behavioral health, hospitals and healthcare systems, managed care, telemedicine, and ancillary healthcare service providers.

In recent years, Amanda spent a significant amount of time advising behavioral health companies, including those focusing on the treatment of PTSD. Amanda's husband was a Lieutenant in the Army and has witnessed the first-hand suffering of those living with PTSD and the impact of suicide on families and fellow servicemen and women. The mission and goals of Roll Out PTSD align with Amanda's goal of giving back and impacting others, especially those who have served our country, with her experience in investment banking.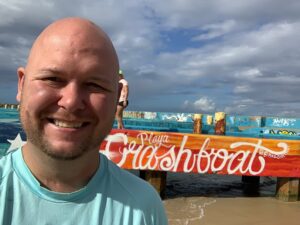 Brandon Brodsho is the Treasure and Secretary of Roll Out PTSD.  As Treasurer he oversees all donations and makes sure they go where they are expected to go and as Secretary, he organizes everyone to move in the same direction.  Brandon heard about Michaels's vision during a conversation with Brett.  Upon learning about Roll Out PTSD he asked if he could help in any way and on a whim, he decided to take a trip to Puerto Rico just a few months after that.  Spending time with Michael and seeing what he was doing made the decision clear.  He joined the team.
Brandon grew up in the small town of Wells, NV where he learned that everyone was a friend, and no one was a stranger.  He kept that spirit throughout his life working then managing then leading. Upon graduation, he went to school at the University of Nevada where he received a Bachelor of Marketing.  He then moved from Reno to Biloxi, MS. Where he started his career at the Hard Rock Hotel and Casino as the Entertainment Manager. He spent seven and a half years learning the gaming and entertainment business.  Organizing up to 110 concerts per year.  During his tenure, he helped with more of the Marketing events at the company, by the end of his time at the Hard Rock he was planning and executing gaming and special events, along with his concerts and nightlife responsibilities. 
Brandon then decided to change career paths and signed on at Alvix Laboratories as a Planner in a Pharmaceutical repackaging company.  He spent three years immersing himself in a new business and market.  After three years he took a job as the COO for the startup Levin Pharma wholesale company where he created all the processes and headed up the product development for the company.  He worked there for two years until an opportunity to return to Alvix presented itself.  Brandon rejoined the company in 2020 as the COO of Alvix Laboratories and that summer got promoted to CEO.
Brandon met Michael in December of 2021 and began working with him on Roll Out PTSD almost immediately.  He left Alvix and moved to Puerto Rico in the Summer of 2022 to help Michael build the company he has been dreaming of for years.
Support Us In Our Efforts To Combat PTSD
Roll Out PTSD is always looking for other veteran organizations to connect with and grow our veteran's network
with all resources directed towards helping veterans.